Astro Bot Rescue Mission para PlayStation VR muestra los detalles de su jugabilidad en un nuevo vídeo
Sony Interactive Entertainment (SIE) ha desvelado un nuevo vídeo de Astro Bot Rescue Mission, videojuego de plataformas desarrollado por Japan Studio (creadores de The Playroom y The Playroom VR), en el que se muestran algunas de las principales características jugables y de diseño de este título exclusivo de PlayStation®4 para el dispositivo de realidad virtual PlayStation®VR (PS VR) que ya ha entrado en fase gold (ha finalizado su desarrollo).
En el vídeo, Nicolas Doucet (Director Creativo de Japan Studio), conversa con Sebastian Brueckner (Directo de arte) y Gento Morita (Jefe de Diseño) para tratar la evolución en el sistema de plataformas que propone Astro Bot Rescue Mission, videojuego protagonizado por el simpático robot Astro en el que el jugador tendrá que superar un total de 26 niveles y acabar con 5 poderosos jefes finales. En este sentido, los creativos destacan que, gracias a las posibilidades de PS VR, el movimiento de la cámara es totalmente libre, permitiendo al jugador situar la perspectiva donde desee y generando un nuevo concepto de exploración de los diferente escenarios.
Como resultado, Astro Bot Rescue Mission tendrá una jugabilidad fluida e intuitiva, mostrándose realmente innovador y aumentando la sensación de libertad de movimiento del jugador en un videojuego diseñado para jugarse mediante el mando DUALSHOCK®4 (que actuará también como elemento activo del propio gameplay del juego).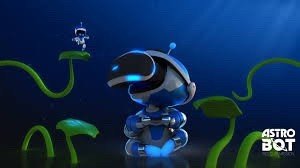 Astro Bot Rescue Mission llegará al mercado español tanto en formato físico en los puntos de venta habituales, como en versión digital a través PLayStation Store el próximo 3 de Octubre. Además, ya es posible realizar la reserva del título con los siguiente incentivos:
• 4 Avatares Astro Bot (Recompensa inmediata).
• Tema dinámico.
• Banda Sonora Original digital completa.
Os dejamos  aquí el link para ver el nuevo vídeo 'Behind The Scenes".